3 Home Improvement Ideas For Spring In Austin, TX
Henry Rollins said, "In winter, I plot and plan. In spring, I move." If you're like me, springtime inspires you to open your windows and roll up your sleeves to get your house in tip-top shape.
Here are 3 home improvement tips for spring in Austin so that your home looks as good as new.
1. Perform A Spring Checkup For Safety And Energy Efficiency
Spring is the perfect time to ensure your home's systems are running properly for the summer. Here's a list of some of the things you should inspect every spring in Austin:
HVAC System. Run your air conditioning system to make sure it can handle the summer heat. Improve your HVAC system's energy efficiency by swapping out your air conditioning and furnace filters. Many HVAC companies will do this service for a small fee.
Smoke Detectors. Keep your home and family safe by testing your smoke and carbon monoxide alarms. Put fresh batteries in your alarms every spring and fall.
Caulking and Windows. Check the caulking around doors, windows, and kitchen and bathroom fixtures for cracks. Replace the caulking if needed. Install window treatments, like plantation shutters, to increase the energy efficiency of your windows. Open up your windows to make sure that they can move freely.
2. Deep Clean Your House So That It Shines
The best way to make your house shine is with a deep clean. Start by decluttering all of your rooms to open up the area. Next, clean anything you don't scrub every week such as floors, kitchen and bathroom walls, baseboards, and ceiling fans. Shine up your bathroom and kitchen fixtures. Move your furniture to clean and vacuum the areas under and behind it and then vacuum your furniture.
Brighten your home by cleaning your windows. Wipe down your windows and screens to get rid of smudges and dust. Clean your window treatments including shutters, draperies, and shades. You can give your blinds a new look with an ultrasonic cleaning treatment.
3. Redecorate Your Rooms For A Fresh Look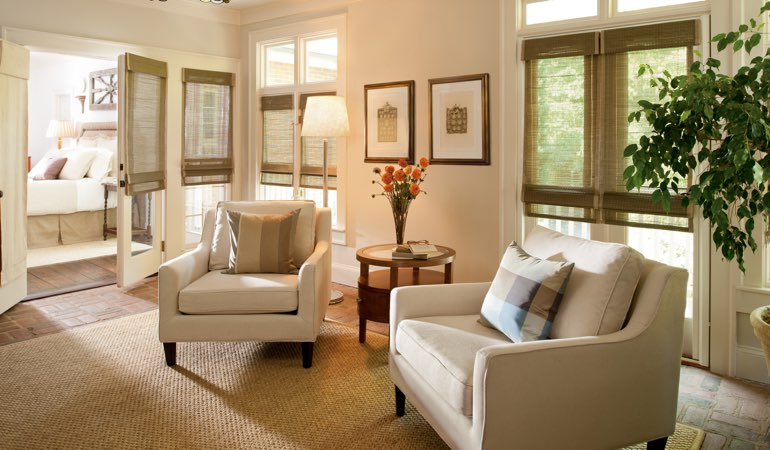 Now that you've cleaned your house and decluttered it, you're ready for the fun part: redecorating.
The easiest way to redecorate your home is to use what you already have. Rearranging your furniture can give the room an entirely new feel. Or you can shop your house. This means you switch out the accessories and furniture you already have between rooms. Bring in more color with fresh paint, bright accent pillows, and live plants.
If you want to give your room a new look, then browse through our idea gallery for ideas and inspiration. It's full of photos of beautiful rooms and window treatments for all areas of your home. Once you've decided on the style and color scheme for your room, you can add coordinating furniture, artwork, and accessories.
Window treatments are an easy thing to update that matches your existing décor and freshens up your home. You can choose from a range of shutters including plantation shutters, reclaimed wood shutters, and barn door shutters as well as shades and blinds.
Check Out More Design Tips
If you need more ideas for your home, explore our design tips. And when you find a look and window treatment that you want for your home, give us a call at 512-549-6077 or fill out the form below to schedule a free in-home consultation. Our professionals will walk you through finding the best window treatment to give your room a beautiful, fresh look this spring.