8 Uses for Reclaimed Wood in Your Austin Home
This might come as a revelation to you, but reclaimed wood is finding all kinds of uses with Austin people, who seem to love its natural look and the beauty it brings to their home décor. It's a desirable way to upcycle weathered wood and, at the same time showcase your individual style. Reclaimed wood products tend to make a favorable impression whether you use it on a wall, your cabinets, or even your windows. In need of a few pointers on how to ensure that reclaimed wood fulfills your decorating objectives? We've selected 8 great ideas for you – every one of them applied to wonderful effect in Austin homes.
1.Use Reclaimed Wood on Your Windows
Finally: that window treatment of reclaimed wood you've had your eye on is now readily available to you. Sunburst Shutters now offers a plantation shutter fashioned from the best possible reclaimed wood. In truth, Sunburst is the only company offering reclaimed wood shutters in the Austin area. We got our hands on the reclaimed wood you love and used it to create a louvered shutter that's just as appealing for its functionality as it is for its beauty.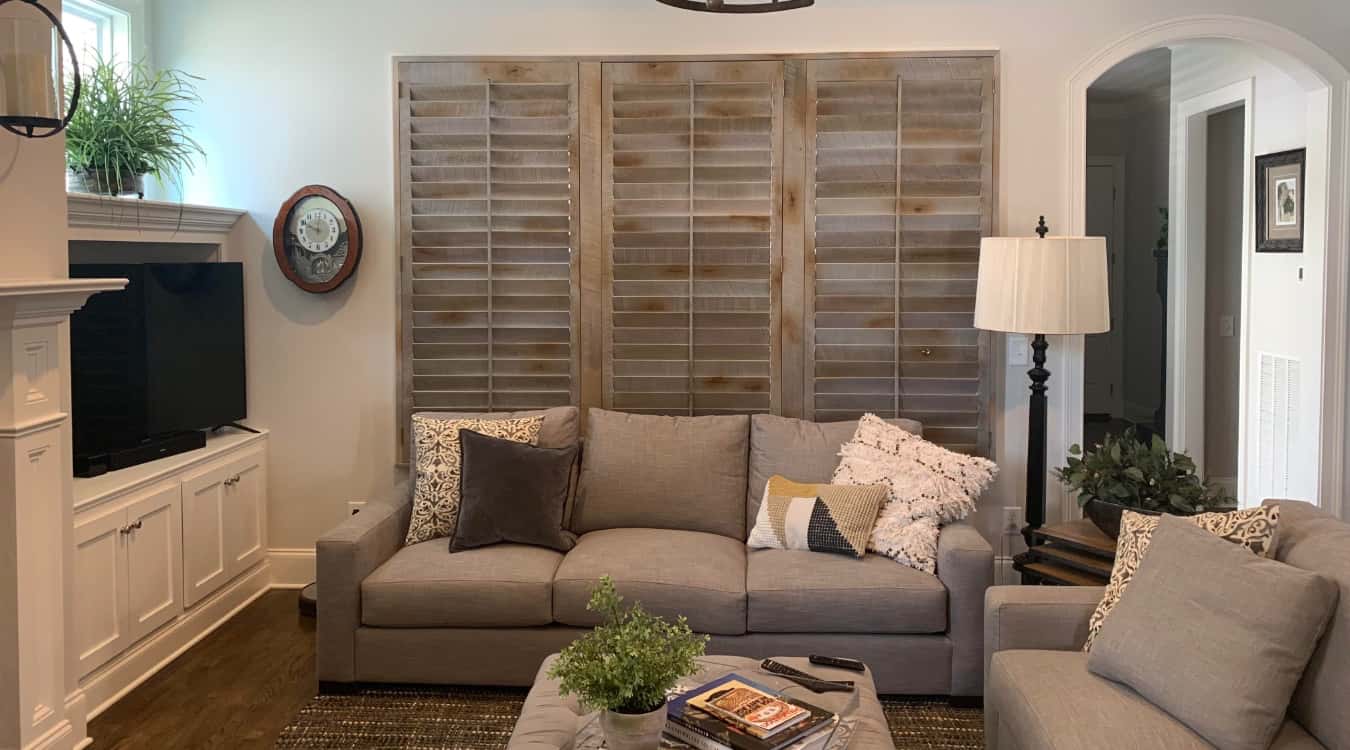 Reclaimed wood can be a window treatment like no other. It makes a difference, certainly, that your reclaimed wood shutters are themselves works of art. And Sunburst makes sure they are. You'll see that their smooth, simple operation is as gratifying as their look. Tilt the louvers open to bring a little light inside. And tilt them closed to more fully appreciate the weathered look of reclaimed wood on your window. Don't simply take our word for it, though. There's plenty more to discover about reclaimed wood for windows in Austin. Be adventurous!
2. Walls of Reclaimed Wood
Bring the outside in with a reclaimed wood wall. Reclaimed wood paneling makes your wall distinctive and imparts a cozy ambiance to the room. It makes no difference whether you have a fireplace, artwork, TV, or bookcase you want to show off, a reclaimed wood wall will look incredible behind it and create precisely the effect you'd hoped for.
3. Used Reclaimed Wood for Floors
Been thinking about redoing a floor in your house? Wood flooring of any kind can make a room feel warmer, but flooring of reclaimed wood has a singular beauty perfected in the time – generally decades – the wood has remained outdoors. Regardless of whether you're a bona fide nature lover or someone who's simply drawn to the appearance of weathered wood, you'll be blown over by what a reclaimed wood floor can do to make your home come alive.
4. Use Reclaimed Wood in Cabinets
Given the the easier access you have to reclaimed wood, you couldn't find a more perfect time to re-do your kitchen cabinets. It's the natural way to dress up your entire kitchen. Each panel of reclaimed wood conveys a rich tale – of long years hidden away in an old building, for instance, or in the crumbling structure of a barn or fence. And a bit of that story will remain in your reclaimed wood cabinets, called forth every time you see them.
5. Reclaimed Wood as a Table
A tabletop made or consisting of reclaimed wood can add a trendy, emphatically novel touch to your dining room or home office. Marry the subtle, natural hues of reclaimed wood with your décor for a cohesive look that fulfills your expectations – while it awes your guests!
6. Using Reclaimed Wood for Bookcases
Aside from what else we might cherish about them, books make marvelous decorative pieces. Leather, vinyl, buckram, or paperbound books and those with colorful dust jackets look good on a coffee or end table, on a bookshelf, or in a large bookcase. Their agreeable variety is both distinguished and harmonized in bookcases of real wood, too. And bookcases of reclaimed wood, due to their natural colors, knots, holes, scratches, and other traits, create a particularly distinctive, one-of-a-kind furnishing.
7. Reclaimed Wood and Picture Frames
The rustic, natural look of reclaimed wood is just so appropriate for picture frames. It's just what's needed to show off your favorite artwork and personal photos in a most distinctive manner. What's just as worth pointing out is that frames of reclaimed wood can be crafted in a multitude of styles, so they'll complement practically any look you've established for your home.
8. Redo Your Headboard in Reclaimed Wood
Few things can refresh the ambiance of a bedroom like a smartly designed and constructed headboard. There's no one way, mind you, to affix a headboard. It can be – and often is – attached to the bed itself. But a fair number of people these days prefer it fastened to the wall behind their bed. However you prefer it, a headboard constructed of reclaimed wood planking can be undeniably stunning. It's natural coloring and effects of weathering are easily adapted to a multiplicity of styles, from antique to modern. With reclaimed wood, your artistic talent can absolutely take off, making it possible for you to achieve the headboard of your dreams!
Find Your Inspiration in Reclaimed Wood
It's our hope that we've inspired you with these 8 ideas for making use of reclaimed wood. As you might expect, though, we have plenty of other ideas kicking around – ideas that beautifully complement the reclaimed wood shutters only we make so readily available in Austin. Our experts stand ready to show you samples of our shutters, answer your questions, and help you explore many other design ideas. Contact us at 512-549-6077 to schedule your free in-home design consultation at your first opportunity!