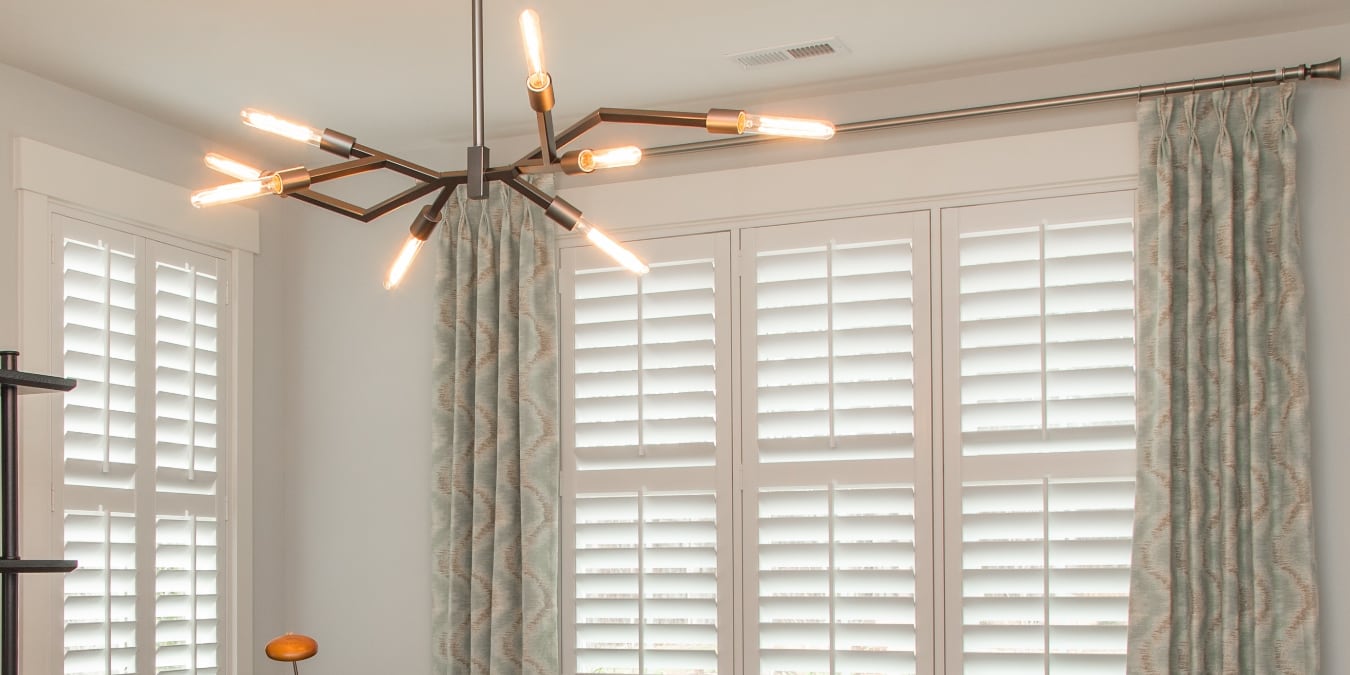 Home Office Window Treatments In Austin That Work For You
If you are one of the many people working remotely these days, you might need some guidance in upgrading your Austin home office. Start with your window treatments. Need to see a short comparison of the various home office window treatments?
Check out our window treatments chart, for window treatments perfect for your home office.
Products like plantation shutters and motorized window shades are sensible home office window treatments for Austin professionals who would like to have a distraction-free and comfortable work setting without compromising your home's unique design. These alternatives have an added bonus of helping you look more professional during video calls! Here's how to utilize these window treatments to your best interest.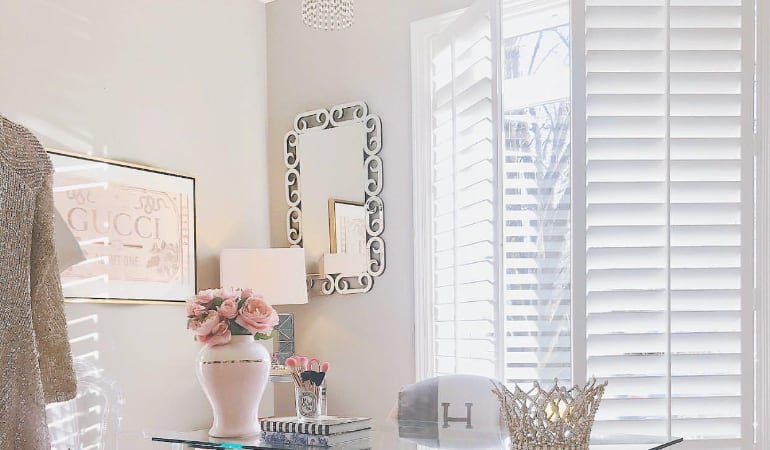 Plantation Shutters: Versatile Home Office Window Treatments In Austin
Working remotely can be challenging, so choose home office window treatments in Austin that can optimize your space. Plantation shutters' unique design makes them a preferred solution when you want to adjust your area's lighting and comfort levels.
A benefit of working remotely is that you have total control over the temperature. But keep in mind, you don't want to inflate your utility expenses by relying on your HVAC system every hour of the day. Polywood shutters with insulating qualities can help. When it's hot and sunny, close your Polywood shutters to reduce the interior temperature and keep the glare off your monitors. On chilly days, that same insulation fights off those cool drafts.
Looking to save on electricity or hate poor lighting? Tilt the tilt rod on your Polywood shutters for filtered light that you can redirect from your computer display and into other parts of your room. Shut them again to limit distractions such delivery trucks or the neighbor's dog. Or shut your shutters for privacy after dark if you end up working late.
If you'd like a little more appeal in your home office, the fine edges of interior shutters create an elegant architectural detail that enlivens even the most basic of windows. They can be found in a variety of versatile colors as well. Whether you select crisp white Polywood shutters or a warm and welcoming hardwood shutter, your new home office window treatments will make you thrilled to be working from home!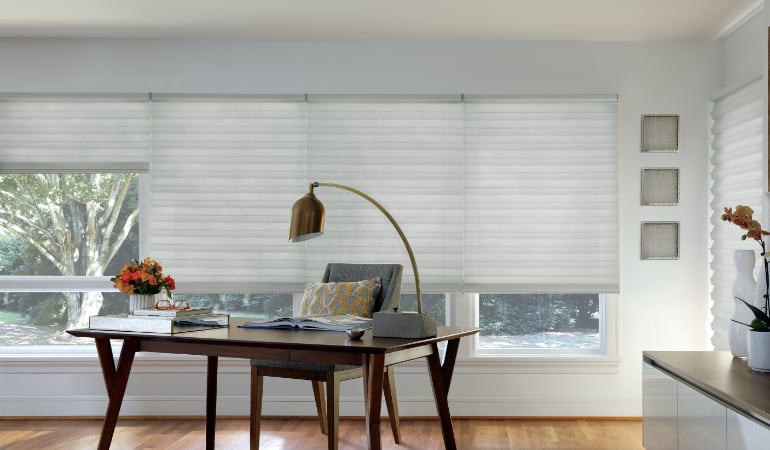 Motorized Window Shades Are A Smart Choice for Austin Remote Professionals
Similar to Polywood shutters, a wide array of customizable shades deliver sunlight control and insulating capabilities for your home office windows. Blackout roller shades eliminate glare from the sun. Energy-efficient cellular shades fight off drafts and hold in warm air. Transitional shades give you the option of soft, filtered sunlight or complete dark.
Window shades also come in a multitude of colors, textures, and materials to match your unique taste and deliver the atmosphere you want for work. You might like something stylish like Roman shades that provide a great background during virtual meetings or something simple like roller shades to avoid distractions.
Once you know what style of window shade you want, explore the motorized option to enhance your workspace further. Motorized window shades operate with a remote control instead of by hand. This offers more flexibility for controlling the lighting in your home office.
If the sunlight shifts and a glare interrupts your attention, you are able to shut your shades with the press of a button without leaving your desk. If sunlight is impacting your appearance on a conference call, or you find your work space resembles a dungeon online, you can close or open your motorized shades right from your workstation without disrupting meetings. Your boss and colleagues will be impressed with your professional workspace when you upgrade your home office window treatments in Austin.
Are You Still Wondering What Window Treatments Is Right For Your Office? We've Put Together This Chart To Help Compare All Of Your Choices.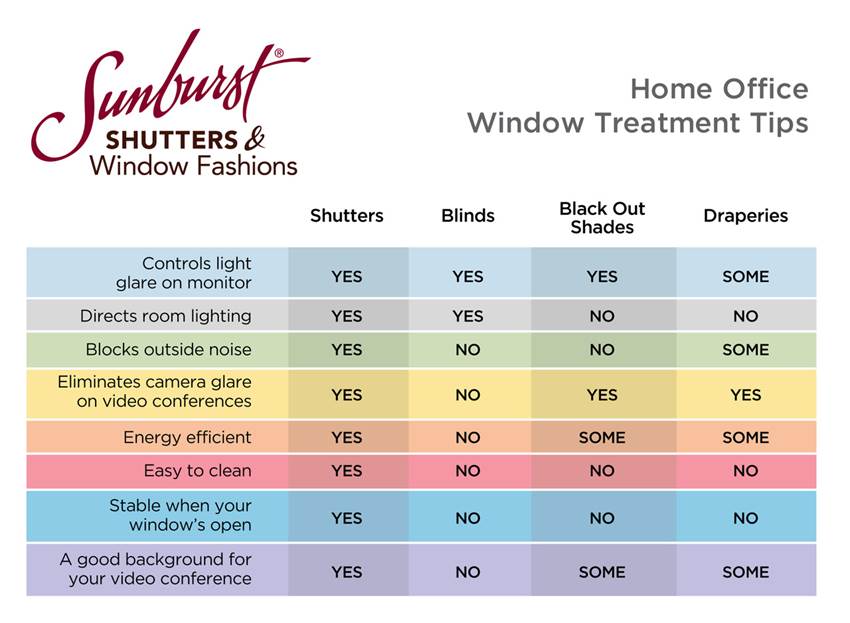 Elevate Your Austin Home Office with Window Treatments From Sunburst Shutters
You will stay focused and productive when your window treatments limit distractions while keeping you comfortable. Talk to the window treatment specialists at Sunburst to make the right choices for your home office. To request a free in-home consultation, contact us at 512-549-6077 or complete the form on this page.