The Best Nursery Window Treatment Ideas In Austin
If you're expecting a child in Austin, your goal is to make sure every aspect of your little one's nursery just right -- and that includes the window treatments. But prior to picking the right window treatment, remember that functionality and safety matter. Babies are able to pull down drapery or become tangled in blind cords. These coverings aren't able to block sunlight and drafting for optimal sleeping conditions either. As an alternative, install child-friendly, energy-efficient interior shutters or cellular shades as window treatments for your nursery in Austin.
Plantation Shutters Make Your Nursery Cozy, Safe, And Stylish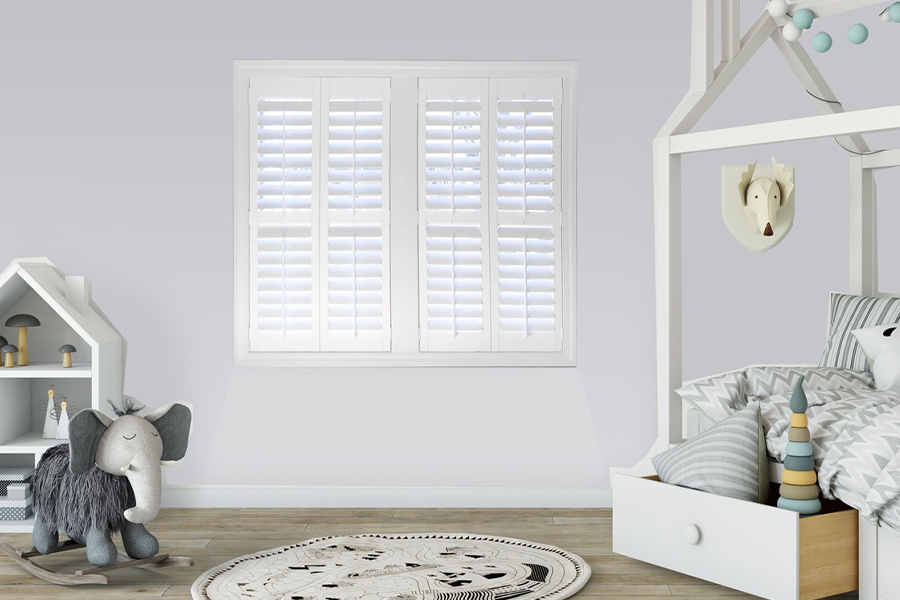 Louvered shutters might not be at the top of your list of nursery window treatment ideas in Austin, but they really are the best choice! These classic window treatments look incredible in every space. Their louvered panels provide an appealing complement to the soft furnishings typically found in a child's nursery. You can install
white faux wood Polywood® shutters
in nurseries with vibrant or lighter-toned color choices. Stained hardwood shutters may be a better option in the event your nursery has nature-inspired pieces or you would like to harmonize with the present wood trim. And when you change the style as your baby gets bigger, your shutters will still coordinate with the space's new feel.
Interior shutters have a particular construction that makes them suitable for kids' bedrooms. In lieu of using drapes or corded options for a loved one to grasp on or get ensnared by, plantation shutters have sturdy panels with adjustable louvers set in a frame that encompasses the window. They even clean with ease when they inevitably get smudges from tiny fingers.
Shutter slats and panels give you a few different options for managing natural light and privacy in your nursery too. Pull back the panels for a sun-filled playroom or close the panels and tilt the slats out to let in a bit of sunshine and redirect it off the place where your child plays. Then shut everything to eliminate nearly all sunlight for naps and bedtime.
Shut louvered shutters block heat loss too. Air won't flow through solid wood and faux wood like it does through fabric window treatments. And premium Ovation® and Polywood shutters employ the finest manufacturing techniques to greatly reduce openings where air slips through. Polywood shutters also feature the best in weather protection that makes them the most energy-smart nursery window treatments in Austin and makes certain your nursery stays comfortable for a pleasant rest.
Cellular Shades Offer Added Efficiency and Versatility To Nursery Windows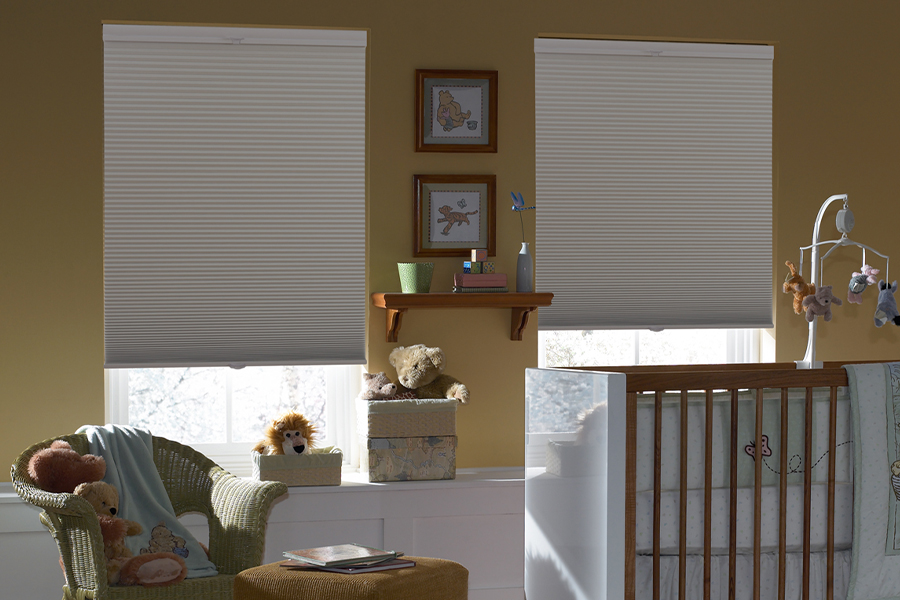 In the event you would rather a softer option for your nursery window treatments,
choose cellular window shades.
These window coverings are offered in different patterns, materials, and colors for you to select from. You'll even find styles such as top-down/bottom-up shades that offer more adaptability with outside light and privacy or non-corded shades that your baby isn't able to get ensnared in.
The greatest advantage of cellular shades is their superior efficiency. Their structure consists of small pockets that trap air entering through your windows before it enters the nursery. They help keep the area at a pleasant temperature and energy bills down.
Would You Like More Nursery Window Treatment Ideas In Austin? Talk To Sunburst
No matter if you need nursery window treatment ideas in Austin or choices for a separate room of the house, Sunburst Shutters Austin is here to help. We supply a wide selection of window fashions that make your residence more stylish and comfortable. Reach out to 512-549-6077 or submit the form below to request a complimentary on-site appointment and discover incredible window treatments in Austin.