The Perfect Window Covering For Angled Windows In Austin
As angled (or rake) windows are becoming more and more popular in contemporary home design, run-of-the-mill window treatments like curtains or drapes just don't cut it anymore. You need a window covering that will accentuate the unique shape of your window, instead of obstructing it. For this reason and others which we'll dive into, plantation shutters are the perfect choice for the angled windows in your Austin house.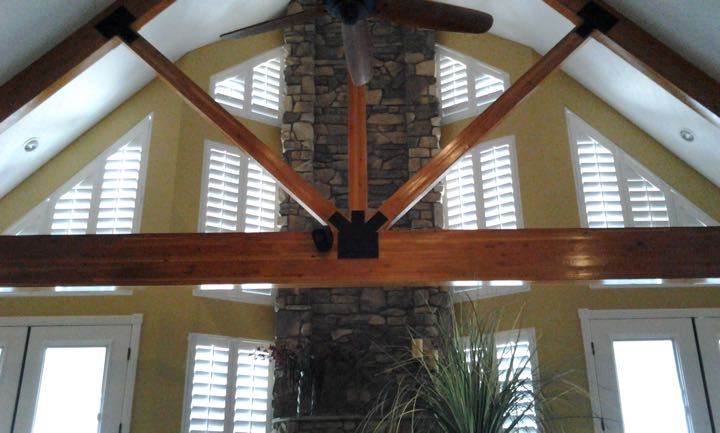 Let's get the facts on how your angled windows would be served best by shutters from Sunburst Shutters Austin.
Custom-Made For Any Window Shape And Size
No window treatment out there can fit angled windows as perfectly as do custom-constructed plantation shutters.Have triangle-shaped windows in your Austin house? Maybe they're slanted. Either way, Sunburst Shutters Austin can construct shutters that perfectly fit and emphasize your window's unique shape. And unlike blinds or shades that mask your window with a rectangular cover, shutters can truly bring out the individuality of your home's architecture.
In addition to letting you keep the visual "pop" angled windows add to your home, plantation shutters also give you numerous benefits beyond their looks.
Complete Control Of Your Space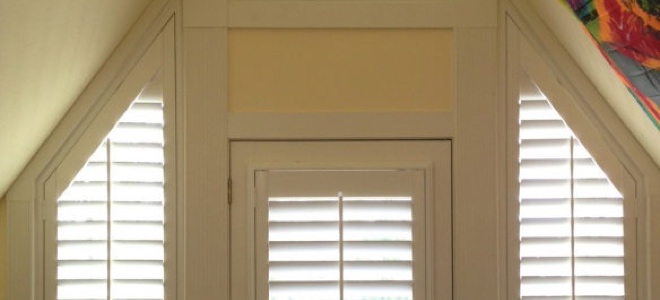 Shutters aren't just a fantastic window covering choice for their aesthetics. Shutters are also the most effective treatment for giving you utmost control over the amount of light and heat in your room. With a quick adjustment of the louvers, plantation shutters can allow you to alter how much light you let into your room.
When you need to keep your home at a desirable temperature, there's no choice other than Polywood® plantation shutters since they are built for maximum insulation benefits. When utilized correctly, the Polywood Insulating System blocks nearly 30° of airflow, and can lower heat transfer by nearly half, meaning your house stays the perfect temperature, and your heating bills stay manageable.
For non-rectangular windows, solar-blocking window film is another option because it is able to be custom cut to any shape. Remember though that window film won't offer much visual control of the area, and we recommend pairing them with another window treatment such as shutters to give you more privacy and add style to your home.
The Money Component
Like we mentioned before, plantation shutters are incredibly effective at insulating your home and lowering your utility bills, but there are additional ways you can benefit from your window investment. With proper maintenance, the shutters on your angled windows can last dozens of years, whereas other window treatments will likely need eventual replacement after just a couple of seasons.
When it's finally time to move on from your house and put it on the market, plantation shutters are a great selling point for potential buyers in Austin. Not to mention, the character they give your rake windows can add tremendous walkthrough appeal, similar to a classic hardwood floor.
What's The Right Angle?
So we'd like to know - are your rake ready to reach their potential? If so, Sunburst Shutters Austin is prepared to assist. Call us at
512-549-6077
or fill out the form below to set up your free, in-home window treatment
consultation
, where we can demonstrate all the available options and help you select your best fit.